ANNIVERSARY
Dear Reader,

Exactly seventeen years ago, I returned to painting. My artist's statement, which is found on this website, tells more about my decision. But something as common as going into the cellar to file an exhibition folder triggered memories of late January 1998, when I signed up for a painting class taught by Nan Hass Feldman at the Worcester Art Museum.
Returning to painting after a nearly 40 years, took encouragement from John ("If you don't sign up for this class, I will do it for you. This class is taught by an artist whose work we've bought!"). I had to overcome my reluctance ("You don't know what you're saying – just the cost of materials will be daunting. And, how do I know if I can even paint again?"). In spite of art museums and galleries, and art books being a motif throughout my/our life, would this venture be a colossal waste of time and money? Not to mention, a pummeling of my self-confidence.
What I brought upstairs from the cellar that day is the first assignment from Nan's class.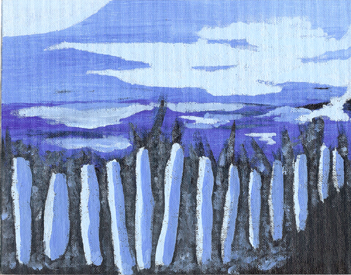 I set up a cheap easel in the back hall and mixed my paints for the first time in decades. I remember crying.
When I took the small panel to class the next week, I dutifully recorded questions and comments on the back. I was there to learn all I could. "Assignment #1 – create a small, monochromatic painting showing foreground, middle ground and background."
I noted that the composition came from John's photograph of Sunset Beach in Wellfleet, Massachusetts. I listed my acrylic paint choices: cobalt blue, titanium white and Mars black, mixed with matte medium.
I wrote three questions, but was too embarrassed to ask them: What proportions of paint & medium? Why does color bleed? When do I use water? I may well have added: What am I doing here?
Along the bottom, I jotted people's comments as they said them. This critique would be the first of many, because I continued to take classes for several years. Abstract.Eerie. Completes the assignment. Highly stylized. Like animation (cartoon). And the one I liked best: Edvard Munch-like.
Seventeen years later, I am still working out my influences and pouring my imagination into that chalice that is, according to Stanley Kunitz, art.